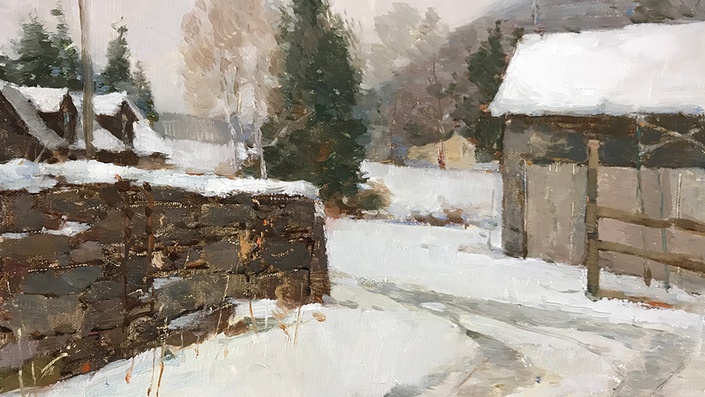 V E R M O N T
shades of grey
Before we start our journey together, just couple of things.
December 20, 2018 we celebrated a year of my oil painting webinars on YouTube with a special, Anniversary webinar. LINK.
This demo-class is a remastered version of that Anniversary webinar.
What is this remastering all about? Is it any better than one on YouTube?

First, I added a drawing part at the amazing HD quality, so you can see drawing sketch process in details.
Second, I re-recorded voice-over that keep you better in focus on what's happening on canvas.
and Third, I have split entire process of painting into logical stages. This should help you to understand thinking process behind the scenes. Ad yes, it runs at 1:1 speed, no fast play as we ran on YouTube.
With better video, and instructions, you will get more comfortable painting overcast weather. You will discover that Grey day is Great day for painting too, especially for oil painting! Sketch, composiotion, color mixing is never too much!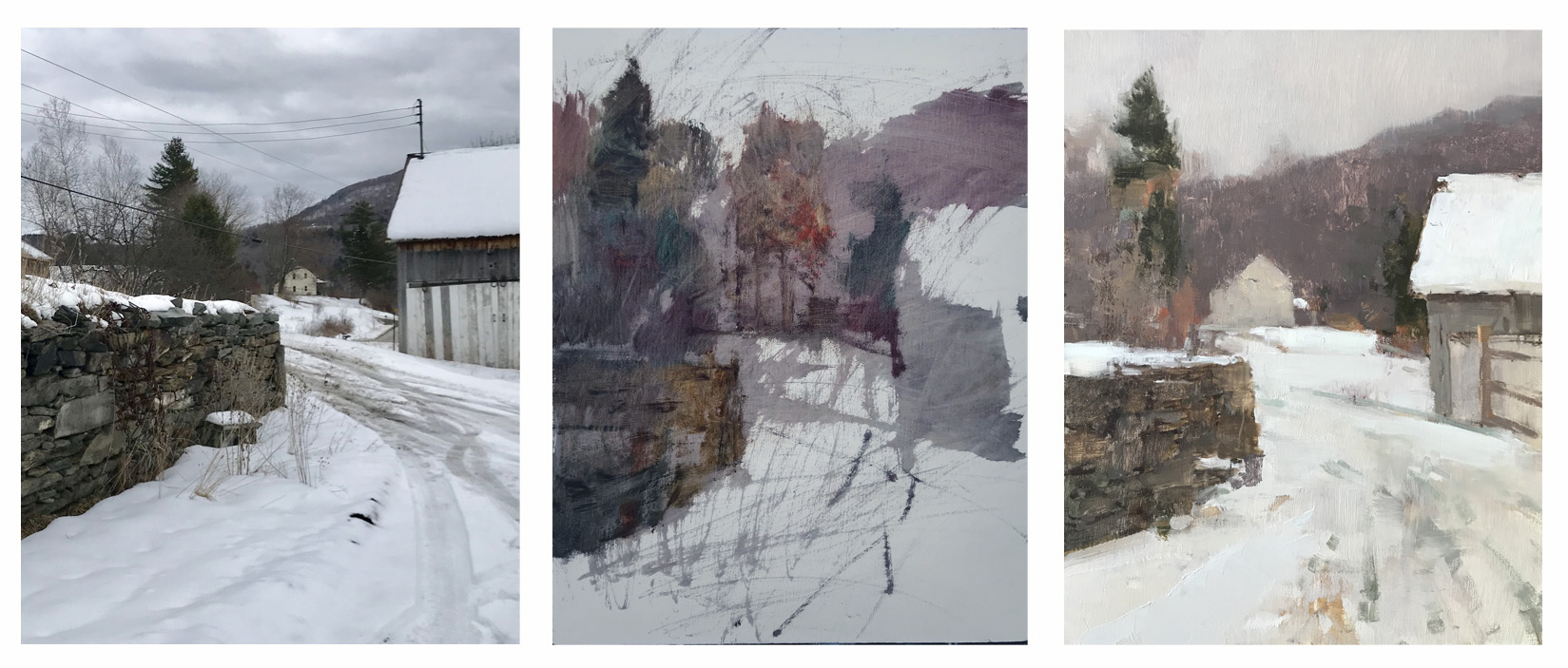 Above and below you can see a reference photograph, I have taken in March 2018 during Jeffersonville Winter Randezvous, which plein air paint-out of American and Russian artists.
Also you will find an image of initial plan our work, which inspired me to create these webinar, and demo.
Master Class on this subject is coming soon, since a lot of interest from you, my friends. It will be a more comprehensive process of working on the same subject. We will create another painting, bigger one, and master Class will include more steps, with big-time explanations. I will show you full process of work towards a successful painting like this one. This should be a big help for those who lack confidence or not just enough confident working on oil painting, especially en plein air.
Are you excited? Learing painting is a long process, and this is another step to your better artworks. Let's do it!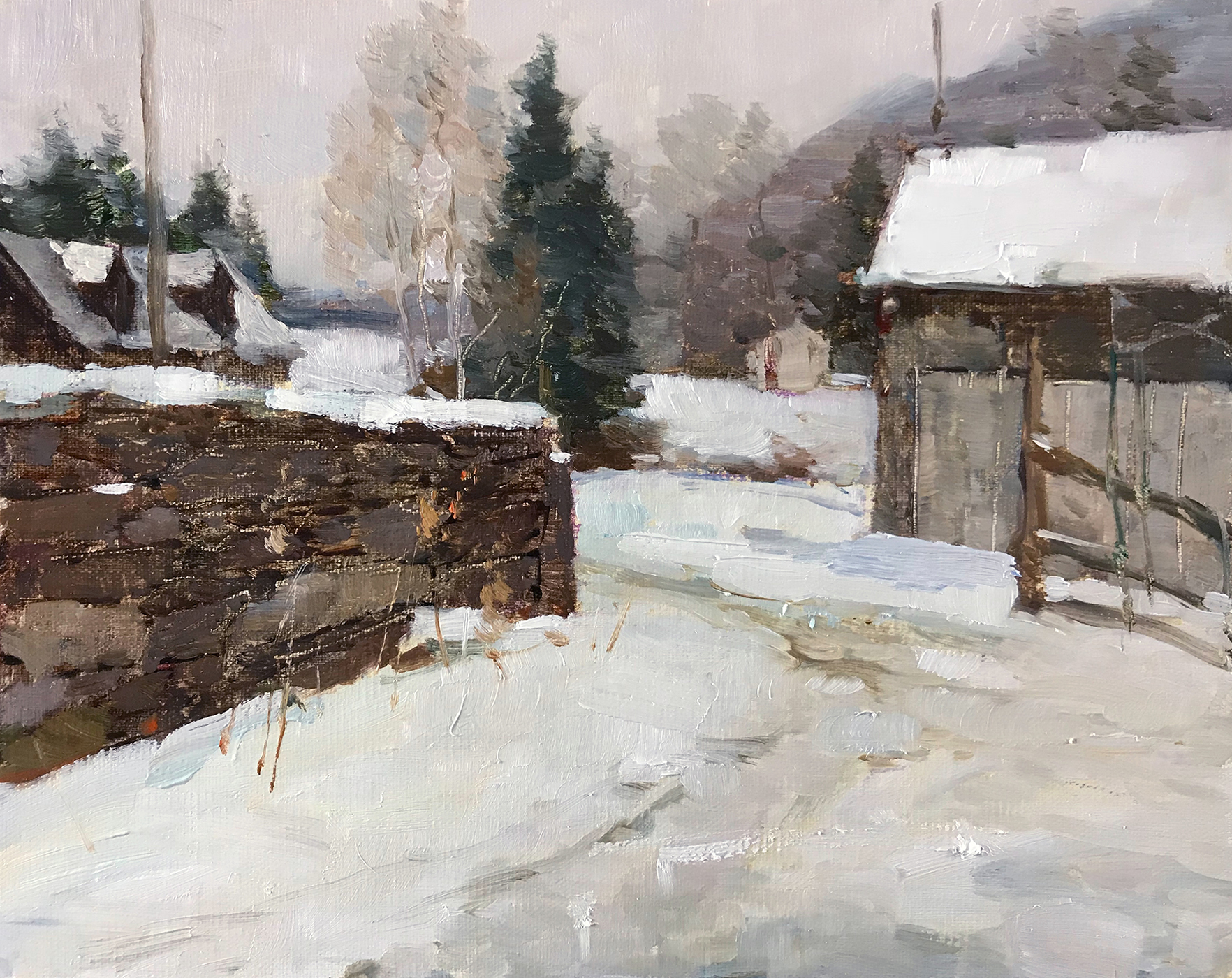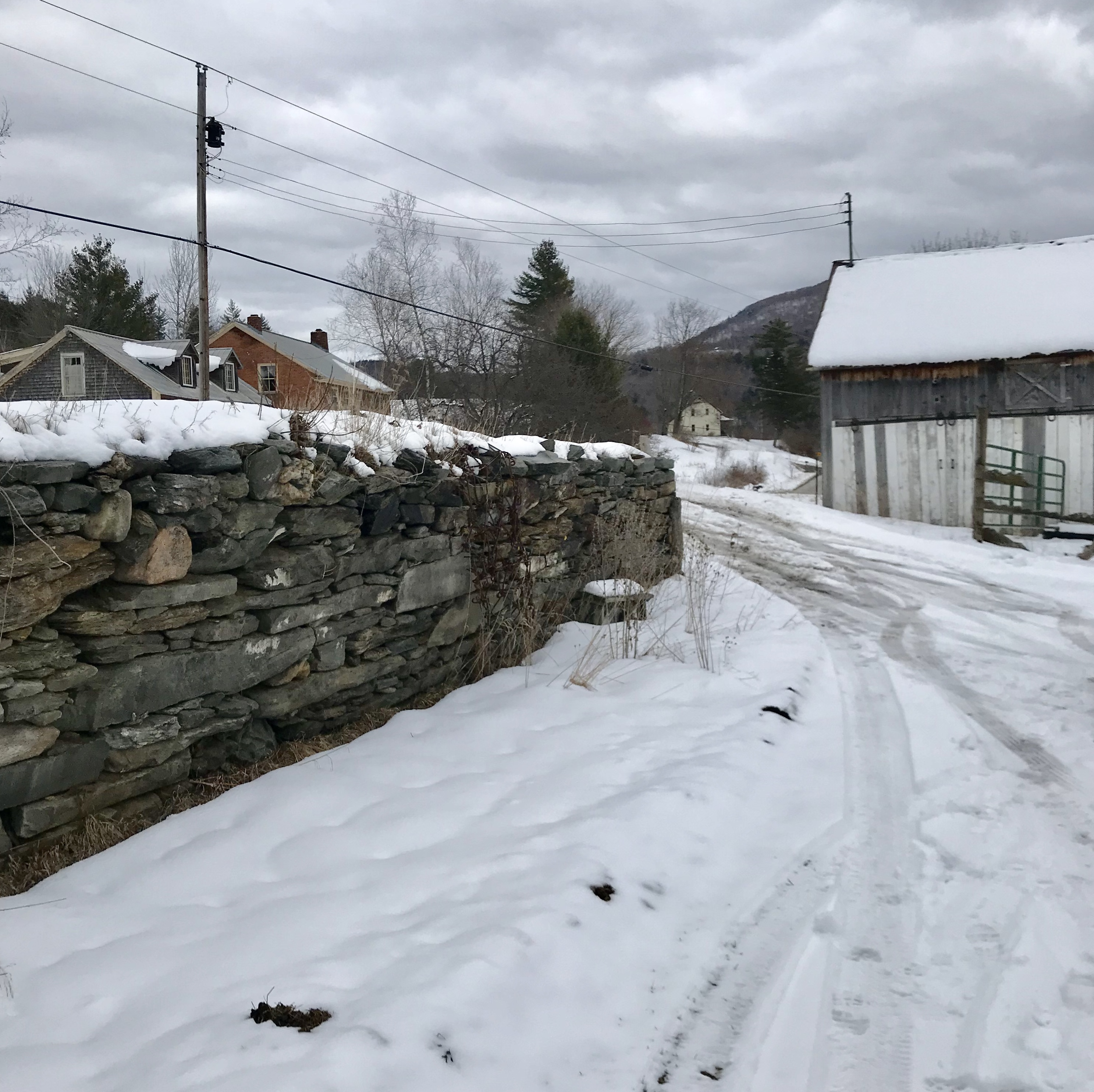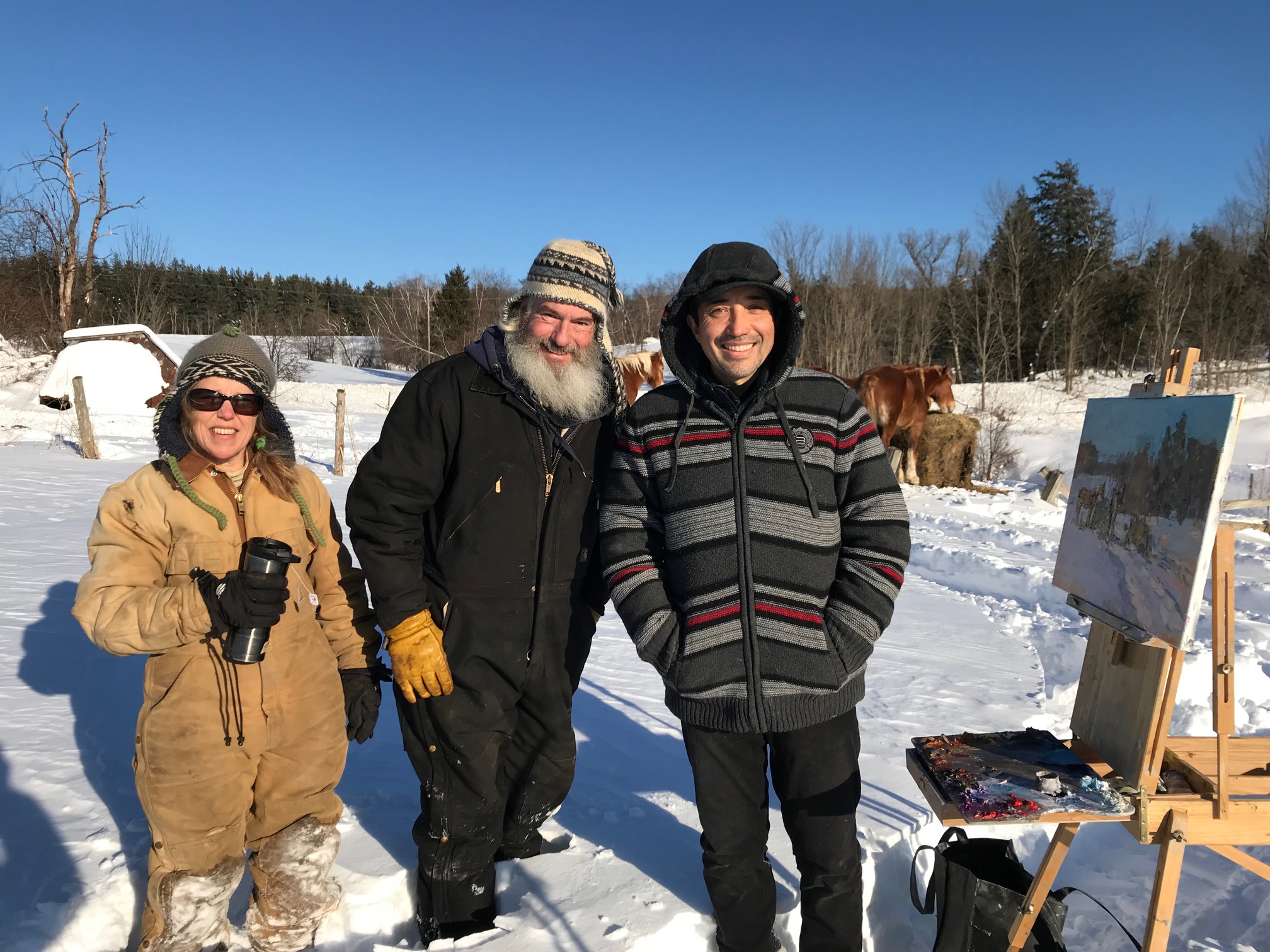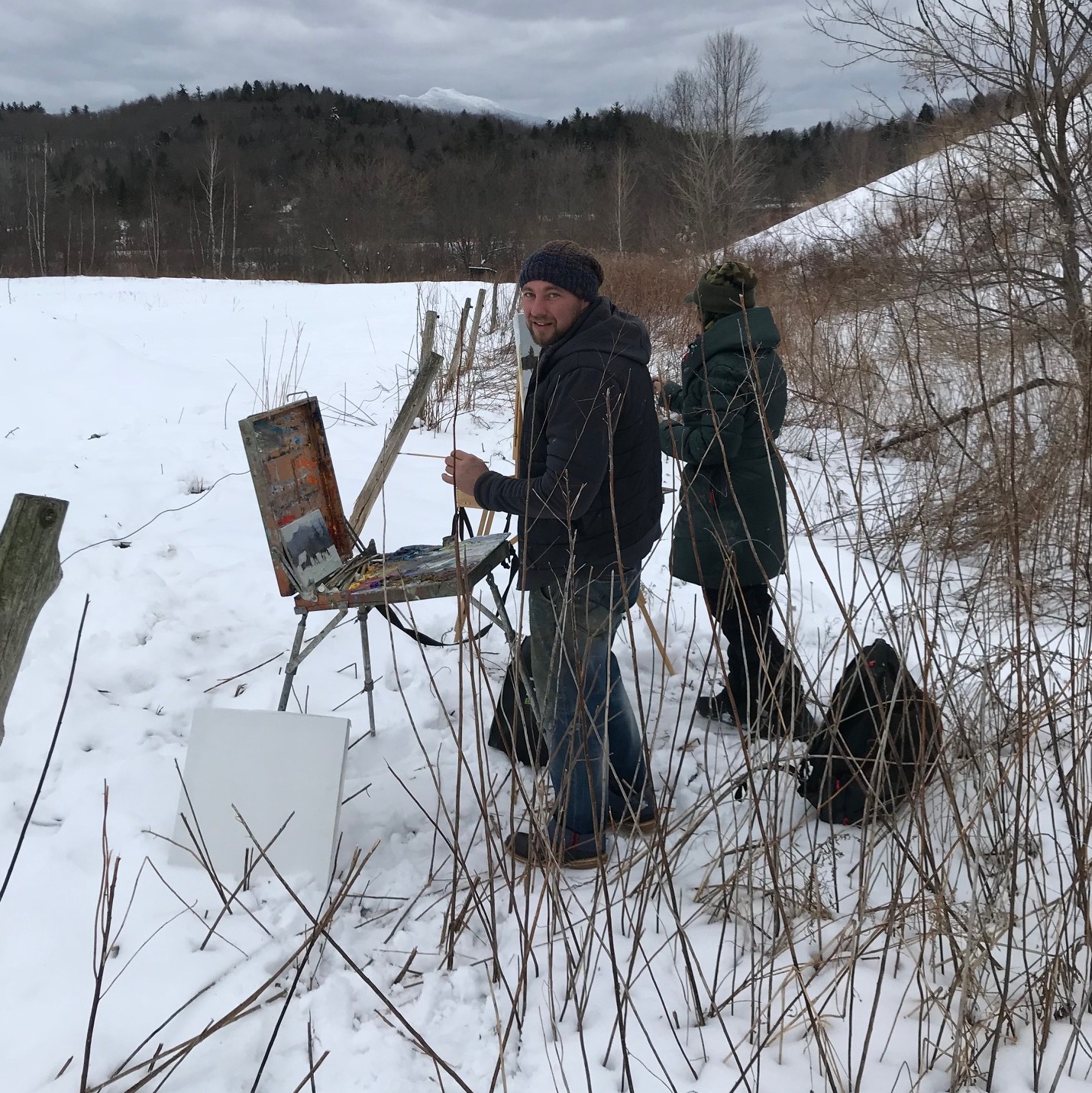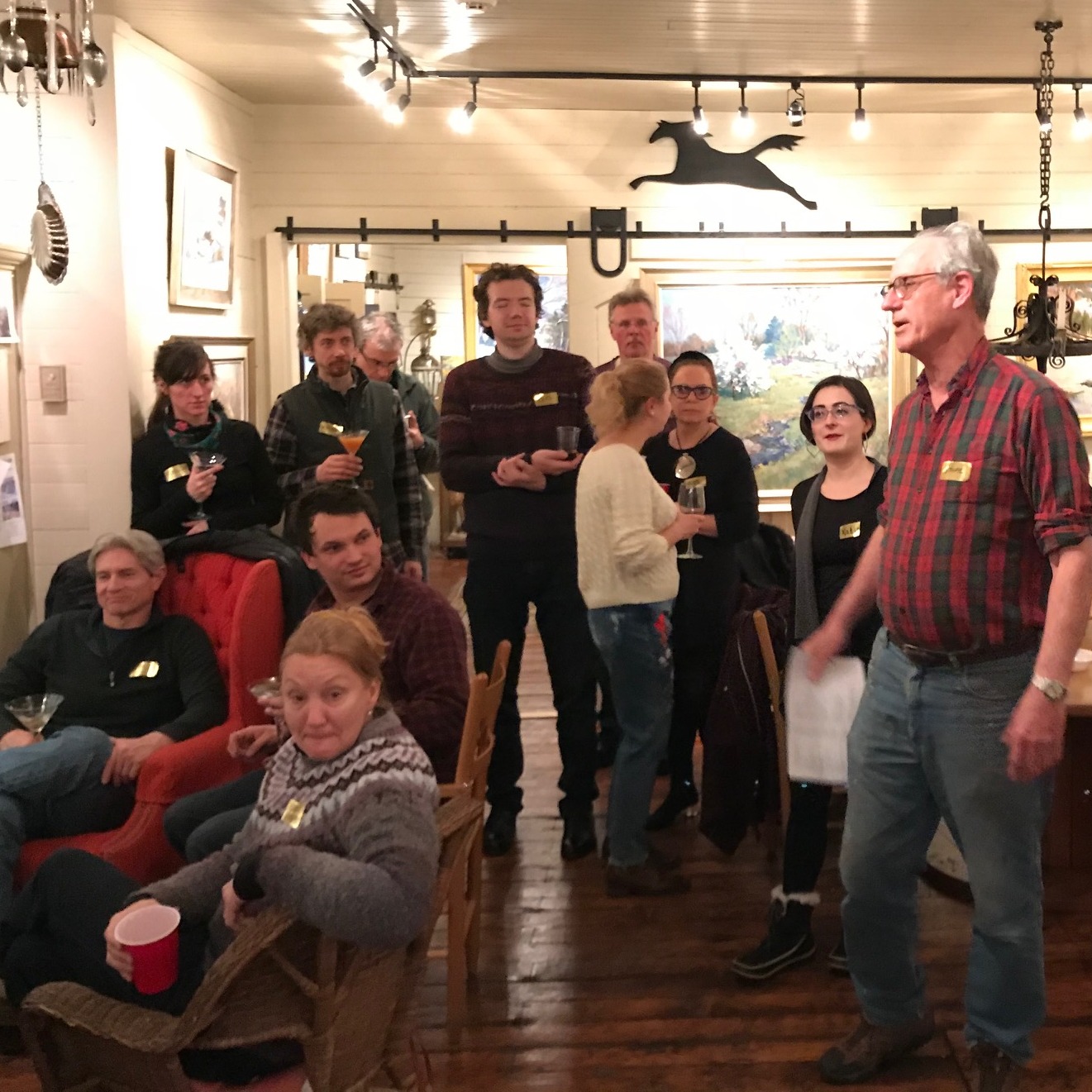 ____________________

ART SUPPLIES LIST
CANVAS: Oil primed canvas panel Centurion OP DLX, 8" x 10"
OIL PAINTS: Titanium White and
warm lights: Cadmium Lemon, Ochre Yellow Light (Blick), Cadmium Orange, Cadmium Red Light, and Raw Sienna
warm darks: Alizarin Crimson, Cadmium Maroon (Holbein), Oxide Brown Transparent (Rembrandt)
cold darks: Viridian Green, Ultramarin Blue, Cobalt Blue, Ceruleum Blue.
If you do not have Cadmium Maroon, you can mix similar paint with Cadmium Red and Ultramarine. I just have found that I use this combo so often, so it worth buying it in tube.

MEDIUM: mix of Galkyd with Gamsol (both by Gamblin) ratio 1:1. If you do not have this particular ones, use any medium, which would help to speed up drying while not being pure solvent. I used also Galkyd gel to help my lower layers dry faster.
BRUSHES: Ivory Rigger #2, Ivory Dagger 1/2". Flats: one Bristle# 8-12, Eclipe Comber (soft flat brush with great edges) 1/2", Ivory Flat Short #2, Ivory Flat Short #6-8. All brushes by Rosemary. Use same or simiar to them.

PALETTE KNIFE: I use similar to Blick-RMG size 23. Any metal one with about 2 inches long blade of a drop or dimond shape.
I hope this video class will be helpful, encouraging and inspiring. Confidence will come with knowledge, and practice. First part on me! Then it's your turn!
Ask your questions, share advises or comments: [email protected]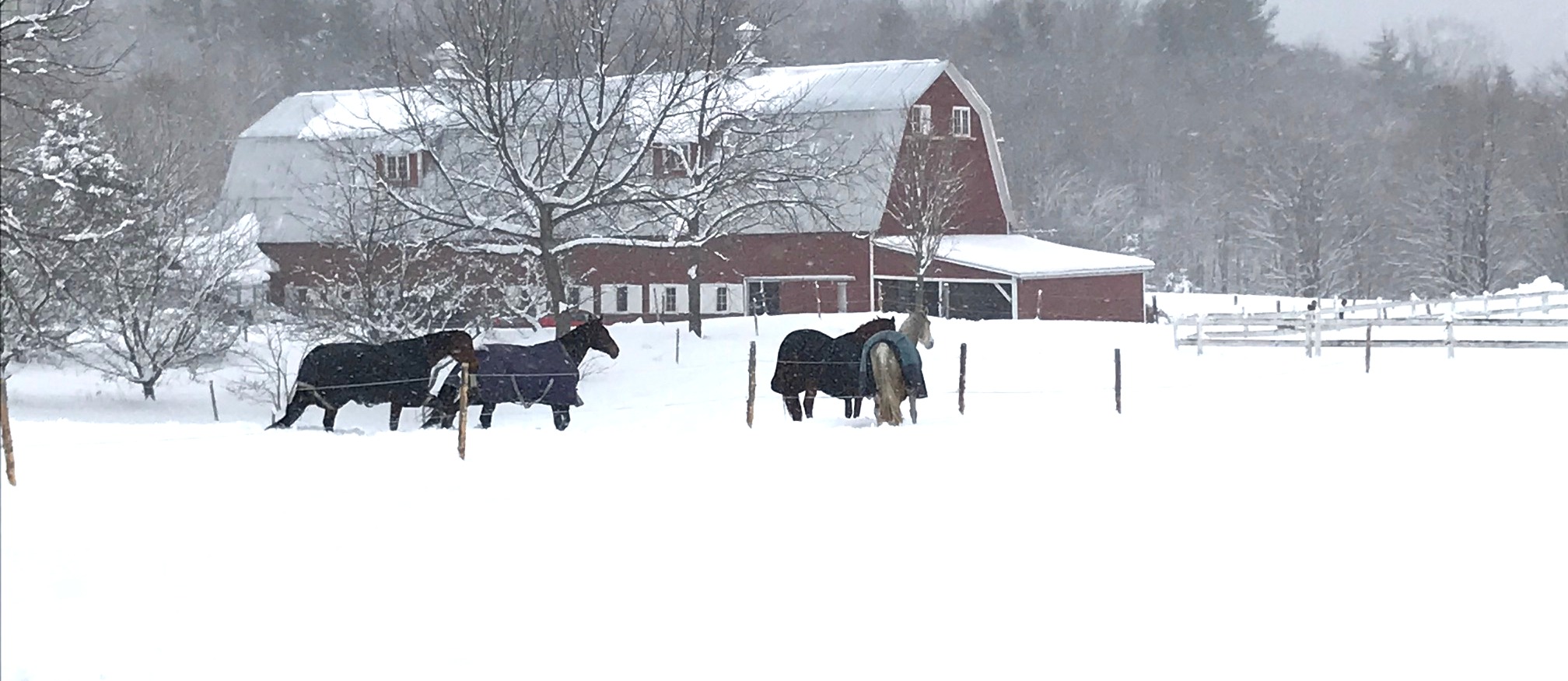 Your Instructor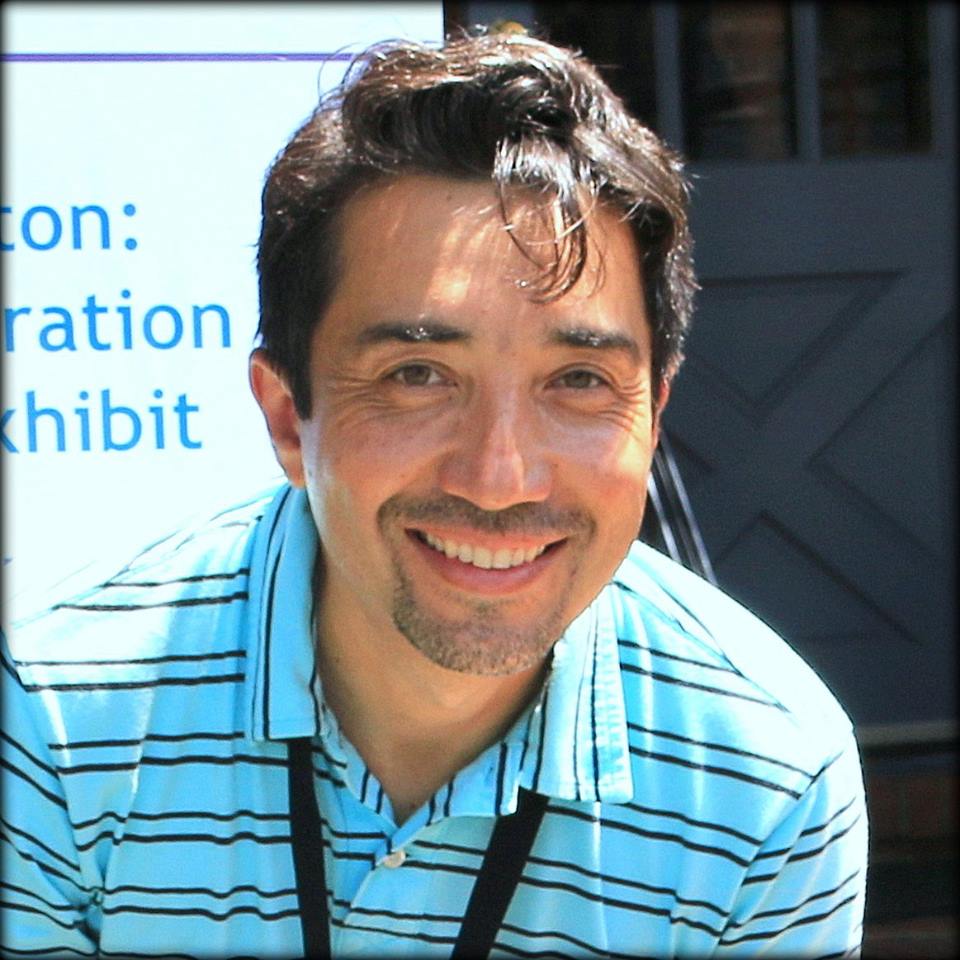 Started taking drawing and painting classes at age nine in art school, Zufar was eleven when he painted his first plein air works; depicting nearby village cottages and a horse resting next to a carriage delivering pies to the local market. He found this kind of painting was so different from painting a still-life or a model in the art school studio. He fell in love with landscape painting and started exploring the language of direct expression of what just in front of him.

Zufar's interest in painting came early in life from the influence of his father, a well-respected specialist in engineering. His father's dream to become an artist could not be realized in post WWII Soviet Union during Stalin's regime era. Being accepted to Nicolai Fechin Art school in Kazan (Russia), he had to switch to the school of Engineering and Architecture. "My dad never pushed me into an art career", recalls Zufar, "however, albums of my father's watercolors and a library of Russian Fine Art at our home, along with my father's paints and brushes ? this environment became fertile soil for the seed of my artistic talent to grow."
When the time came to choose a college and profession, his soul calling for need to help people led Zufar to a medical career. During his study in medical school, residency, and finally a move to the United States, art never was left behind and continued to be an essential part of his self-actualization. Zufar was honored to participate in the exhibit "Doctors Paint" in the State Museum of Fine Arts in Kazan and at Yale School of Medicine.

Zufar's town and landscapes style lean towards Russian and Soviet era impressionism. For him art is a continuous experimentation and growth. Through over a decade, traveling and painting in the US changed his painting palette to a higher key.

Spur of interest to plein air painting in the United States brought the artist to national level competitions, where he won a number of awards. Among others, Zufar treasures most his several Artist Choice awards at Plein Air Easton (Maryland). Receiving "Medal of Honor and Merit" from Kent Art Association (the first art organization in the US he had joined) is another one of his most memorable achievements. The Award of Irvine Museum, he received recently at the Laguna Plein Air national competition (Laguna Beach, California) is another valuable award he was honored to given.

His works are widely present in private collections in the United States, from New England to California, in the UK, Spain, and of course in Russia.
Zufar has a number of followers of his art and considers teaching art another significant point of his artistic career.
________________________________
Major influences
Isaak Levitan, Valentin Serov, Konstantin Korovin, Willard L Metcalf, Joaquin Sorolla, W M Chase, Gustav Klimt.
---
Selected Awards and Exhibitions
2018 - Plein Air Easton, Third Place Award. Easton, MD.
2018 - Award of Mid-Atlantic Plain Air Association. Wayne Plein Air. Wayne, Penn.

2018 - Award of Excellence. Members' Spring Juried Show. Kent Art Association. Kent, Conn.

2017 - Grand Prize, Award of Excellence. Connecticut Plein Air Painters Society. Southington, Conn.

2017 - Precious Water Award. En Plein Air Texas Invitational. San Angelo, Texas.

2017 - Distinctive Merit Award. Laguna Plein Air Invitational. Laguna Beach, California.
2017 - Founders' Award/Best in Show. Spring Juried Show at Kent Art Association. Kent, Conn.

2017 - Exhibition "Dusk till Dawn" at The Irvine Museum Collection at the University of California. Irvine, California.
2017 - Best in Show/ Founders' Award at Spring Juried Show, Kent AA. Kent, Conn.

2017 - Atlanta History Center Insiders Plein Air Award at Atlanta-Olmsted Plein Air 2017. Atlanta, Georgia.
2016 - Irvine Museum Award at Laguna Plein Air Invitational XVIII. Laguna Beach, California.
2016 - Exhibition: American Masters. Salmagundi Art Club. New York, NY.
2016 - Awards: 1. Artist Choice Award, 2. Best Composition, 3. Best Nocturne at Plein Air Easton XI. Easton, Maryland.
2016 - Solo Exhibition and Artist's Talk: "Exploring America's Beauty: Artist's Way to Go. Gloria Cachion Gallery at SPL. Southbury, Conn.
2016 - Canson Award at Plein Air Wayne. Wayne, Penn.
2016 - Awards: 1. Best of Gillette Castle Paint-out Award, 2. Jerry's Artarama Award at Connecticut Plein Air Painters SocietyAnnual Show. Putnam, Conn.
2015 - Award: Artists Choice at Tilghman Island Paint Out. Plein Air Easton X, Maryland.
2014 - Awards: 1. Best Use of Light, 2. Artists Choice Award at Plein Air Easton IX. Easton, Maryland.
2014 - Solo Exhibition. Gallery on the Green. Norwalk, Conn.
2013 - Grand Prize at Connecticut Plein Air Painters Society Annual show. East Hartford, Conn.
2013 – Award: Best in Show - Connecticut Schooner Plein Air Festival. New London, Conn.
2013 – Award: 1st prize in Oils at Old Greenwich Art Show. Greenwich, Conn.
2012 – Award: Grand Prize at Finger Lakes Plein Air. Canandaigua, NY
2012 – Award: 1st prize in Oils at Old Greenwich Art Show, Greenwich, CT
2007 - 2016 - Numerous Awards of Excellence. Kent Art Association. Kent Conn.

2009 - Solo Show. Kent Art Association, Kent, Conn.
2008 - Medal of Merit. Kent Art Association. Kent, CT.
2007 - President's Show. Best in Show, Anthony E. Wallace Memorial Award. Kent Art Association. Kent, CT.
2006 - One Man Show. Gallery at Pomperaug Woods, Southbury, CT
2005 - Two Artists from Russia, Fenn Gallery, Woodbury, CT
2004 - Yale Art Place Show, Yale School of Medicine. New Haven, CT
2003 - Vanguard Traditions in Contemporary Art of Tatarstan, State Museum of Fine Arts, Kazan, Russia
2003 - Spring Crown, Central Exhibition Hall of Artists' Union. Kazan, Russia
2002 - Doctors Paint. State Museum of Fine Art. Kazan, Russia.
---
Affiliations
Oil Painters of America
Professional Union of Artists of Russia
Lyme Art Association
Laguna Plein Air Painters Association
Kent Art Association
Connecticut Plein Air Painters Society
---
Frequently Asked Questions
When does the course start and finish?
The course starts now! It is active now, and eventually will retire, or transform to a better one. It is a completely self-paced online course - you decide when you start and when you finish.
How long do I have access to the course?
After enrolling, you have unlimited access to this course for as long as you like - across any and all devices you own.
What if I am unhappy with the course?
"I would never want you to be unhappy! If you are unsatisfied with this course or have ideas for its improvement, contact me at
[email protected]
" Yours, Zufar